We call it TAM
An Applicant Tracking System doesn't have to be complex. TAM is designed to be intuitive and easy to use, so that you can concentrate on hiring quality candidates. TAM hosts your branded Careers page, tracks applicants through the hiring process, shares and compares applicant information across your organization, and allows you to stay organized throughout the entire recruiting process. No more overflowing inboxes, piles of resumes or spreadsheets!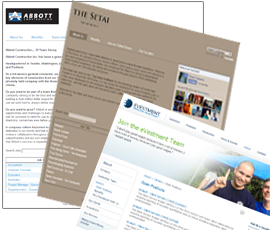 It's powerful and social
Access applicants' data from anywhere, anytime through our secure, cloud-based system
Easily create custom workflows and prescreening forms
Automatically screen out unqualified applicants and merge duplicates
Find the ideal applicant using TAM's advanced/boolean search features
Share notes on applicants across your organization
Schedule interviews and integrate calendars
Communicate with applicants using your own email templates
Securely store, retrieve and share your documents
Rank and sort your applicants
Automatically post your jobs to free and paid job boards
Recruit using Social Media, such as LinkedIn, Facebook and Twitter
Send online Applications for Employment at any step
EEO/Disability/VETS compliant for 2014
And much more...

With stellar support
We don't sell software, we provide solutions. Our team of HR and recruitment professionals designed TAM to support our own clients. We use it ourselves, every day. And while we've made it simple to use and easy to configure, we are always available to help when you want it. You'll be supported by an experienced recruiter, not a call center. Stellar support means that we listen and provide personalized support each and every time. We provide priority responses to exceed your expectations!
"I would rather use my time doing other things than screening and tracking my applicants. With The Applicant Manager, I am able to set my thresholds and ask the questions to get exactly what I am looking for. Getting status updates or inquiries on which stage of the recruiting process for an applicant is child's play and rejections are effortless. Best of all the applicants are presented with a highly professional image of your organization and love that you take the time to reach out to them. They don't realize how easy The Applicant Manager makes it.
The Applicant Manager makes me look good at what I do!"
- Patrick Fernandes
Director of Quality & Training at The Setai
TAM is enthusiastically used by these and many other valued clients