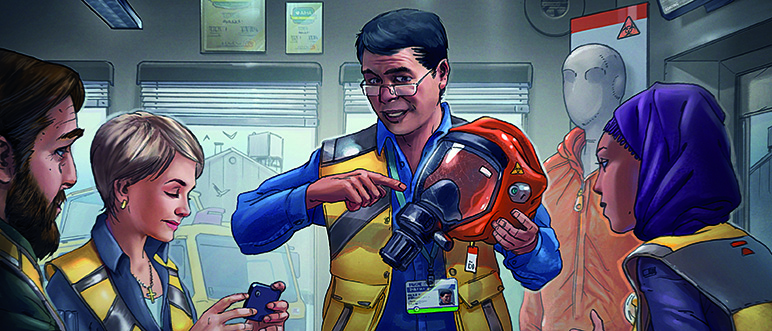 Who We Are
AIHA is the association for scientists and professionals committed to preserving and ensuring occupational and environmental health and safety (OEHS) in the workplace and community. Founded in 1939, we support our members with our expertise, networks, comprehensive education programs, and other products and services that help them maintain the highest professional and competency standards.
Our Mission: Empowering those who apply scientific knowledge to protect all workers and their communities from occupational and environmental hazards.
Our Vision: A world where all workers and their communities are healthy and safe.
To learn more about AIHA and our work, please
click here
.

Benefits Offered by AIHA
AIHA offers comprehensive health, dental, and vision benefits primarily funded by the organization. We also offer a 401(k) match, FSA/HSA, Life & AD&D, STD/LTD, flexible scheduling, telecommute options, and paid: holiday, personal, sick, and vacation leave. AIHA believes in developing our employees. As such, we provide professional development opportunities (internally and externally) and tuition reimbursement.

Residency Requirement & COVID
AIHA staff continue to work remotely. We hope to reopen our office later this year, once it is safe to do so. Prior to COVID, and after reopening our office, AIHA staff has the option to work remotely; however, based on our business set-up and to maximize remote work opportunities, AIHA only employs individuals who live in Washington, DC, Maryland, or Virginia. To be considered a candidate must live in, or be willing to relocate to, Washington, DC, Maryland, or Virginia.
Global Meetings Coordinator (Falls Church, VA)
The Global Meetings Coordinator functions as an essential team member coordinating logistical activities for multiple national and/or regional meetings convened in-person, virtually, or in a hybrid format. The meetings range in size from 5 to 5,000 participants. The Global Meetings Coordinator will work with the conference team on meeting preparation, execution, and follow-up to ensure that assignments are delivered on-time, within budget, and at a consistent level of quality. This may primarily be performed remotely, but may require some time in our Falls Church, VA office. This position will report to the Managing Director, Global Meetings & Development
eLearning Coordinator (Falls Church, VA)
The Coordinator, eLearning will assist with the development and execution of the eLearning training programs for AIHA, including: webinars, online courses, OnDemand learning, virtual conference, and certificate programs. They work with staff, presenters, instructions, members, and committees. This position will report to the Program Director, eLearning.