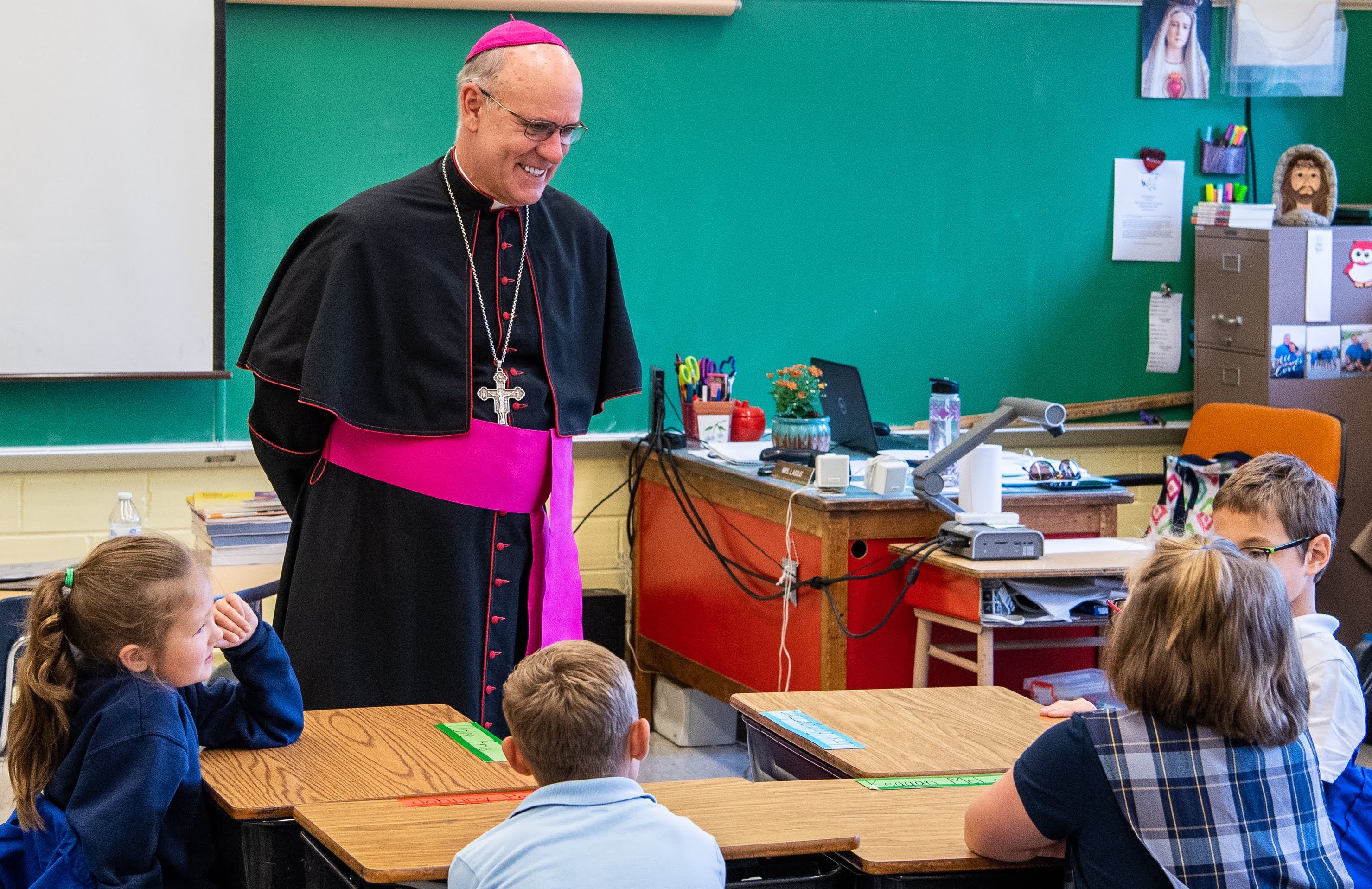 The Diocese of Fort Wayne – South Bend serves 13,000 children in 43 schools in 14 northeastern Indiana counties, and have been educating students in faith, knowledge, and service since 1846.
The Catholic schools in the diocese trace their roots in two remarkable people who were devoted to education and their Catholic faith. In what is now South Bend, Father Edward Sorin, C.S.C. and the brothers of the Congregation of the Holy Cross founded the University of Notre Dame in 1842. In the Fort Wayne area, Saint Mother Theodore Guerin along with Sisters Mary Magdalen, Catherine, and Caroline of the Sisters of Providence founded St. Augustine Academy in 1846. In 1858, after a request by Saint Mother Guerin, the bishop acquired the assistance of the Brothers of the Holy Cross to instruct the boys. The opening of St. Augustine Academy and the hard work of Saint Mother Guerin and the Sisters of Providence paved the way for Catholic schools in the diocese.
Although many years have passed since Saint Mother Theodore Guerin and Father Edward Sorin, C.S.C. labored, taught, and prayed for the children, families, and Catholics residing in our diocese, our principals, teachers, and staff are just as committed to teaching the truth and beauty of our Catholic faith as were the founding Sisters of Providence and the Brothers of the Holy Cross.
The mission of our Catholic Schools is to assist parents in forming their children so that they may grow in holiness, develop their gifts and talents to serve others, and ultimately reach their eternal destiny in heaven. Teaching in a Catholic school is a vocation and continues the teaching and evangelizing mission of Jesus. As Christ came to witness to the love of His Father, so our Catholic School administrators, teachers, and staff are witnesses to that love. As Saint Mother Theodore Guerin said "love the children first, then teach them."
As Catholic Schools educators and staff, we are dedicated to providing strong faith and academic formation and we call our students to recognize the love of God in their midst and to contribute their talents in service to others, especially those in need.
Many teachers, parents, and alumni describe our schools as having an atmosphere of "family." Working together, we help each student become the person God created them to be. Our schools are safe, welcoming places, and where learning abounds, and Christ is truly at the center of all that we do.
Click
here
for other benefits of teaching in our schools.
| Job Title | Location | Type | Close Date |
| --- | --- | --- | --- |
| 1st Grade Teacher | St. John the Evangelist, Goshen | Full time | |
| 1st Grade Teacher | St. Rose of Lima, Monroeville | Full time | Until Filled |
| 2nd Grade Teacher | Corpus Christi | Full time | |
| 3rd Grade Teacher | St. Anthony de Padua | Full time | |
| 4th grade teacher | Our Lady of Hungary | Full time | until filled |
| 5th Grade Teacher | St. Vincent de Paul, Elkhart | Full time | |
| Administrative Assistant | St. Jude, South Bend | Part time | |
| After Care Holy Family School | Holy Family | Part time | |
| After School Care | St. Thomas the Apostle, Elkhart | Part time | |
| After School Care | Christ the King School | Part time | |
| After School Care (Eagles Nest) | St. John the Evangelist, Goshen | Part time | |
| After School Care Staff | St. Vincent de Paul, Fort Wayne | Part time | |
| After-School Care (Viking Watch) | Sacred Heart, Warsaw | Part time | |
| Aide | St. Thomas the Apostle, Elkhart | Part time | |
| Assistant Track Coach | Bishop Luers High School | Part time | 3/31/2022 |
| Assistant Wrestling Coach | Bishop Luers High School | Part time | 12/1/2022 |
| Associate Director of Sacred Music | St. John the Evangelist, Goshen | Part time | |
| Associate Director of Sacred Music | St. John the Evangelist, Goshen | Part time | |
| Bus Driver | Bishop Luers High School | Full time | when filled |
| Bus Driver | Bishop Luers High School | Part time | When filled |
| Bus Driver | Bishop Dwenger High School | Part time | |
| Bus Driver - Part Time | St. Joseph, Garrett | Part time | |
| Bus Drivers | Bishop Luers High School | Full time | 12/01/2021 |
| Business Manger | Saint Joseph High School | Full time | |
| Business Office Assistant | Bishop Luers High School | Full time | 10/31/22 |
| BusinessTeacher | Saint Joseph High School | Full time | Until Filled |
| Cafeteria & Recess Monitor | Huntington Catholic | Part time | |
| Cafeteria Sub | Bishop Dwenger High School | | |
| Childcare Provider | St. Joseph, Decatur | Part time | |
| Classroom Aide | Christ the King School | Part time | Until Filled Starting August 17th, 2022 |
| Classroom Aide | Corpus Christi | | Until Filled |
| Classroom Assistant | St. John the Baptist, Fort Wayne | Part time | when filled |
| Classroom Teaching Assistant | St. Vincent de Paul, Fort Wayne | Part time | |
| Computer Technician Internship | St. Elizabeth Ann Seton | Part time | Open |
| Cook | St. Thomas the Apostle, Elkhart | Part time | |
| Custodian | St. Joseph, South Bend | Part time | |
| Custodian | St. Joseph, South Bend | Part time | |
| Custodian (Full time) | Saint Joseph High School | Full time | |
| Custodian (Part Time) | Saint Joseph High School | Part time | |
| Custodian/Maintenance | Queen of Peace, Mishawaka | Full time | |
| Daycare Assistant | Christ the King School | Part time | |
| Director of Marketing and Public Relations | Saint Joseph High School | Full time | |
| Fifth Grade Teacher | St. Mary of the Assumption, Avilla | Full time | |
| Full Time Days Maintenance Member | Bishop Dwenger High School | Full time | |
| Head Girls Volleyball Coach | Marian High School | Part time | 12/19/22 |
| High School/Middle School Theology and Pastoral Ministers | Diocese - Archbishop Noll Catholic Center | | |
| Instructional Aide | Bishop Dwenger High School | Part time | |
| Instructional Assistants | St. Joseph, South Bend | | |
| Instructional Assistants K-5 Classroom | St. Elizabeth Ann Seton | Part time | Open |
| Instructional Assistants K-8 Resource | St. Elizabeth Ann Seton | Part time | Open |
| Intervention and title 1 teacher | St. Joseph, Garrett | Part time | |
| Junior High Science Teacher | St. Joseph, South Bend | Full time | |
| Kindergarten Maternity Leave | St. Vincent de Paul, Elkhart | Full time | |
| Learning Strategies Paraprofessional for Math | Saint Joseph High School | Full time | Until Filled |
| Lunch Pick-up and Delivery Driver | St. John the Evangelist, Goshen | Part time | |
| Middle School Math - small class sizes | Our Lady, Fort Wayne | Full time | |
| Middle School Math Teacher | St. Joseph, Fort Wayne | Full time | When filled |
| Middle School Math teacher | Our Lady of Hungary | Full time | until filled |
| Music Teacher | St. Therese | Part time | |
| Music Teacher FT/PT Small Class Sizes | Our Lady, Fort Wayne | Full time | |
| Music/Piano Keyboard Teacher 2022-2023 Part-Time | St. Charles Borromeo | Part time | 08/01/2022 |
| PE Teacher Leave | Huntington Catholic | Part time | Until Filled |
| PT School Counselor | St. Elizabeth Ann Seton | Part time | Open |
| Part time Preschool Teacher Aide | St. Joseph, South Bend | Part time | |
| Part-time Music Teacher | St. Joseph, Garrett | Part time | |
| Physical Education Teacher | St. John the Baptist, South Bend | Part time | Until filled |
| Pre-school Teacher Assistant | Most Precious Blood | Part time | until filled |
| PreK-4 yr. old Teacher Afternoon Class 2022-2023 School Year | St. Charles Borromeo | Part time | |
| PreK-8 Paraprofessional | Queen of Angels | Part time | |
| Preschool Assistant | St. John the Evangelist, Goshen | Full time | |
| Preschool Instructional Assistant | Sacred Heart, Warsaw | Part time | January 10, 2023 |
| Preschool aftercare assistant | St. Joseph, South Bend | Part time | |
| Religious Education Coordinator | St. John the Evangelist, Goshen | Full time | |
| School Lunch Program | St. John the Baptist, New Haven | Part time | |
| School Nurse - 1 day per week | Most Precious Blood | Part time | |
| Science Teacher - Physics and Chemistry | Marian High School | Full time | |
| Special Education Teacher Assistant | Bishop Luers High School | Full time | 12/1/2022 |
| Substitute Teacher (Goshen) | St. John the Evangelist, Goshen | | |
| Substitute Teacher - Fort Wayne Area | Diocese - Archbishop Noll Catholic Center | Part time | |
| Substitute Teacher - South Bend Area | Diocese - St. John Paul II Center | Part time | |
| Teacher - All Subjects | Diocese - St. John Paul II Center | Full time | |
| Teacher - All Subjects | Diocese - Archbishop Noll Catholic Center | Full time | |
| Teacher Aide | St. Joseph, Garrett | Part time | 08/15/2022 |
| Teacher aide | St. Joseph, Hessen Cassel | Part time | when filled |
| Teaching Assistant | St. Rose of Lima, Monroeville | Part time | Until Filled |
| Teaching Assistant | St. Jude, South Bend | Part time | |
| Technology Coach | St. Vincent de Paul, Fort Wayne | Part time | |
| Technology Director | Saint Joseph High School | Full time | |