Trident United Way's
Mission states that we are a Catalyst for Measurable Community Transformation in Education, Financial Stability and Health.
Our vision is simple, we are The Leader in Uniting Our Community to Improve Lives.


Trident United Way's
Staff and volunteers are devoted to developing the financial and human resources necessary to do this transformational work. We know the importance and value of our Human Capital and are deeply committed to enhancing our corporate culture, while serving our community, with every new hire. We hope that you want to join our progressive and committed organization, so please, do not hesitate and apply today.

Trident United Way and its employees seek a diverse, inclusive, and equitable workplace. Trident United Way defines a diverse, inclusive, and equitable workplace as one where all employees and volunteers, regardless of race, gender, sexual orientation or identity, age, education, disability or veteran status feels valued and respected. Trident United Way is committed to a nondiscriminatory approach toward employment and investment. Trident United Way will provide equal opportunity for employment and advancement in all departments. It will seek community feedback to ensure community investments are pursued through a lens of equity. Trident United Way respects and values diverse life experiences and ensures that all voices are heard to inform our work.
Trident United Way is committed to modeling diversity and inclusion in the nonprofit sector and to maintaining an environment of inclusiveness and equitable treatment for all.

Trident United Way
In 2021 we have won the Silver Award in the Charleston Healthy Business Challenge. In March 2020 we have been recognized by Working Well, an affiliation of the SC Hospital Association, for our benefits supporting the Financial and Emotional & Mental Wellbeing of our employees and have been awarded the Platinum Award in both categories.

Trident United Way
Participates in the Employers of National Service Network, alumni of AmeriCorps, SeniorCorps and PeaceCorps programs are encouraged to apply!



Trident United Way is an Equal Opportunity Employer with an employee base of 36-40 FTE's. We offer a full range of benefits to Full Time (FT) employees: 401(k), Health (HDHP or PPO option), HSA, Dental, Vision, Life, Disability (STD & LTD), Sick/Personal/Vacation days along with nine (9) paid holidays.

In order to provide equal employment and advancement opportunities to all individuals, employment decisions at TUW will be based on merit, qualifications, and abilities. TUW does not discriminate in employment opportunities or practices on the basis of race, color, religion, sex, national origin, age, disability, sexual orientation, gender identity, veteran status or genetics.

Youtube video: What is United Way?

United Way was once again ranked America's #1 Charity by the Chronicle of Philanthropy in 2019

Would like to see more about Trident United Way?
Check out our website here and don't forget to subscribe to our social media channels.

Review our Community Investments via our tableau dashboard, here.

View our impact report here.

We are looking forward to your application!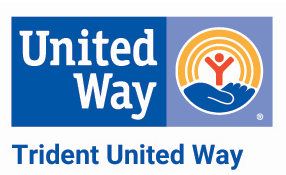 Facebook Instagram LinkedIn Twitter
THE ORGANIZATION
Trident United Way is an independent 501(c)(3) nonprofit, founded in 1944 and incorporated in the state of South Carolina. Its mission is to catalyze measurable transformation in education, health and financial stability for the people of Berkeley, Charleston and Dorchester Counties – known as the Tri-County area. With a vision to be the leader in uniting our community to improve lives, Trident United Way serves as the regional backbone for work utilizing the 'collective impact' discipline to effect systems-level change in education, health and financial stability. In this way, Trident United Way builds upon multi-sector collaborations to address complex issues that no single entity could solve alone. More information can be found at
www.tuw.org
Entrepreneurial and innovative, Trident United Way brings together a wide range of corporations, foundations, non-profits and individual citizens to achieve shared community goals. With 77-years of deep, local knowledge, Trident United Way specializes in building community and regional partnerships to address root cause challenges and build solutions in tandem with the community.
Currently, Trident United Way works with a network of almost 600 non-profit partner organizations across the region. Partners help accelerate critical work, bringing unique perspectives and expertise to advance efforts in education, health and financial stability across the region and beyond. United Way is the largest and most trusted brand in global philanthropy.
Governed by a prestigious board of corporate, academic, health and policy leaders, Trident United Way convenes advisory bodies and networks to share knowledge and resources to form effective solutions to our community's most pressing needs. Trident United Way serves as an advocate and a catalyst for opportunities to expand, deepen and amplify positive community impact.
WHAT WE VALUE
Integrity -
We are proactive, intentionally honest and do the right thing even when no one is looking. We are responsible stewards, accountable and transparent to the community and each other.
Respect -
We treat others with dignity, fairness and trust. We encourage discussion without judgment.
Equity -
We value each person's visible and invisible distinctions and strive to create fair and just systems and opportunities for all.
Collaboration -
We serve as both a leader and a supporter. We value team approaches and are driven by our ability to build relationships across partners and in our community.
Innovation -
We are bold, curious and open to new ideas. We drive forward creatively to address the community's most pressing issues.
We believe our core values define and guide the culture and character of our organization. They are the standards which guide us as individuals and that collectively determine how we fulfill this mission.
THE OPPORTUNITY
The Chief Advancement Officer will help take Trident United Way to the next level of mission accomplishment. The right individual will work to fuel a fundraising environment commensurate with the scope, scale, complexity and entrepreneurial nature of current activities and aspirations going forward. In partnership with the Senior Management Team, the Chief Advancement Officer will enhance and grow a sustainable fundraising framework and communication strategy to support Trident United Way's mission.
Key opportunities are to:
Enhance and manage overall advancement strategy and evolution in an energizing, integrated and matrixed way
Solidify and lead a best-in-class advancement framework that is inclusive of expanding opportunities for impact and innovation
Develop an annual fundraising plan and budget narrative that aligns to the strategic plan.

Diversification of revenue streams that include a growing number of high impact partnerships with increasing complexity, scope and management requirements
Build awareness of Trident United Way and its mission in the local community and beyond
THE ROLE
In support of these aspirations, Trident United Way seeks an advancement senior leader that is adept in working in a dynamic landscape.
Ideally, the new Chief Advancement Officer will bring significant leadership success from large, growing, multi-disciplinary organizations. They will bring proven ability to inspire, manage and nurture high performing teams and to develop a supportive, sustainable fundraising environment.
Responsibilities:
The Chief Advancement Officer is responsible for managing the private and public sector fundraising program for Trident United Way and reports to the Chief Executive Officer. They will develop and implement communication and fundraising strategies in support of the mission of Trident United Way and will work to achieve integration of mission messages within individual, corporate, and foundation giving opportunities. They will participate as a member of the senior management team and will work in concert with the President, the staff, members of the Board of Directors and volunteers to develop short- and long-term support. This individual will manage a team of advancement and communication professionals responsible for all aspects of communications and fundraising including key message development and platforms, individual fundraising, annual appeals, planned giving, public-private partnerships, special events, grant writing, stewardship, acknowledgement of gifts, and data base management and integrity.
This position involves extensive interaction with corporate executives, municipal and community leaders and philanthropists at the local, state and national levels. It also involves high-level interaction with national/regional corporations and the top tier of grant-making foundations. The Chief Advancement Officer must be a dynamic, persuasive, team-oriented individual who will work closely with Trident United Way colleagues and volunteers to build productive, long-term relationships with donors and stakeholders. Professional presence, creativity, diplomacy and personal drive are essential qualifications for the position. The Chief Advancement Officer serves as the chief tactical officer for overall advancement strategies for Trident United Way and is directly accountable for revenue generation, overall advancement strategy and all donor communications.
Specifically, the Chief Advancement Officer will be responsible for:
Planning, developing, and implementing overall communications and fundraising strategies for Trident United Way
Positioning and strengthening the brand as the leading local nonprofit and the best value for philanthropic investment
Leading the Communications team to set a multi-year strategic brand plan that takes the brand image and positioning to new heights
Ensuring all marketing efforts are strategic, aligned and laser focused on maximizing awareness of Trident United Way's mission and efforts
Realizing synergies across the Volunteer Engagement and Advancement teams so that volunteer and donor efforts are maximized
Working with and staff the President and the Senior Management Team, the Board of Directors and volunteers to identify new opportunities for successful fundraising and set specific financial goals and objectives for the advancement program for annual growth
Overseeing cultivation and solicitation of individual, corporate, foundation, and organizational donors, including strategies for donor engagement and special convenings, cultivation events, solicitation and recognition materials, data base oversight, and stewardship planning
Working with organizational leadership to establish goals, priorities, budgets, and long-range plans for the organization. Experience in leading people and building productive, collegial relationships internally and externally to create a successful environment for fundraising
Supervising and coaching the organization's communications and volunteer engagement professionals and advancement professionals. Lead, motivate, and inspire staff to create a strong, cohesive team for achieving fundraising and outreach goals
Developing and managing an annual budget
Adhering to the Code of Ethical Principles of the Association of Fundraising Professionals (AFP) and the Council for the Support and Advancement of Education (CASE)
Participating in staff activities, programs, and assignments. Assuming other duties as requested/assigned
QUALIFICATIONS NECESSARY:
Ten or more (10+) years fundraising experience with a significant track record of success in securing major gifts
Knowledge, understanding and experience in a broad range of fundraising programs, including annual giving, corporate giving and foundation support, planned giving, endowments, donor cultivation, advocacy programs, major gift solicitation, stewardship, and data base management
Experience integrating the work of a high-performing marketing, communications and volunteer function to fuel philanthropy
Proven ability to work collegially and effectively with a diverse constituency, including board members, community leaders, donors, corporations, volunteers, and staff
Extensive working knowledge of fundraising tools and technologies, including major gift and planned giving vehicles, as well as relational databases; Andar and Salesforce experience is a plus
Excellent verbal, written and presentation skills; must be a brand ambassador and an advocate for donor and community needs; convenes internal and external meetings regularly with prospective donors and entities to explore potential opportunities for collaboration
Bachelor's degree required, master's preferred
Division: Advancement
This is a management position
This is a full time position