Trident United Way's
Mission states that we are a Catalyst for Measurable Community Transformation in Education, Financial Stability and Health.
Our vision is simple, we are The Leader in Uniting Our Community to Improve Lives.


Trident United Way's
Staff and volunteers are devoted to developing the financial and human resources necessary to do this transformational work. We know the importance and value of our Human Capital and are deeply committed to enhancing our corporate culture, while serving our community, with every new hire. We hope that you want to join our progressive and committed organization, so please, do not hesitate and apply today.

Trident United Way and its employees seek a diverse, inclusive and equitable workplace. Trident United Way defines a diverse, inclusive and equitable workplace as one where all employees and volunteers, regardless of race, gender, sexual orientation or identity, age, education, disability or veteran status feel valued and respected. Trident United Way is committed to a nondiscriminatory approach toward employment and investment. Trident United Way will provide equal opportunity for employment and advancement in all departments. It will seek community feedback to ensure community investments are pursued through a lens of equity. Trident United Way respects and values diverse life experiences and ensures that all voices are heard to inform our work.
Trident United Way is committed to modeling diversity and inclusion in the nonprofit sector and to maintaining an environment of inclusiveness and equitable treatment for all.

Trident United Way
In 2021 we have won the Silver Award in the Charleston Healthy Business Challenge. In March 2020 we have been recognized by Working Well, an affiliation of the SC Hospital Association, for our benefits supporting the Financial and Emotional & Mental Wellbeing of our employees and have been awarded the Platinum Award in both categories.

Trident United Way
Participates in the Employers of National Service Network, alumni of AmeriCorps, SeniorCorps and PeaceCorps programs are encouraged to apply!



Trident United Way is an Equal Opportunity Employer with an employee base of 36-40 FTE's. We offer a full range of benefits to Full Time (FT) employees: 401(k), Health (HDHP or PPO option), HSA, Dental, Vision, Life, Disability (STD & LTD), Sick/Personal/Vacation days along with nine (9) paid holidays.

In order to provide equal employment and advancement opportunities to all individuals, employment decisions at TUW will be based on merit, qualifications, and abilities. TUW does not discriminate in employment opportunities or practices on the basis of race, color, religion, sex, national origin, age, disability, sexual orientation, gender identity, veteran status or genetics.

Youtube video: What is United Way?

United Way was once again ranked America's #1 Charity by the Chronicle of Philanthropy in 2021

View our impact report here.

We are looking forward to your application!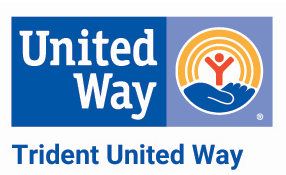 Facebook Instagram LinkedIn Twitter
Trident United Way (TUW)
AMERICORPS MEMBER SERVICE DESCRIPTION
NOTE: All information included in the position description, including program operation, is subject to change based on final grant award.
_____________________________________________________________________________
Position:
AmeriCorps Family Navigator
Stipend:
Living
Allowance for AmeriCorps Service
Reduced Full Time Member(1200hrs)- $15,300

Half Time(900hrs)- $8,000

Minimum Time(300hrs)- $2,973
_____________________________________________________________________________
Are you interested in making a difference in the community?
Are you able to commit yourself to a year of service helping others?
Join our team!! We are developing a dynamic team of 18 service minded, results-driven individuals to make a difference in the community, while gaining marketable skills and professional development. AmeriCorps Members serve as Family Navigators in community agencies providing services to those in need. Navigators will complete their hours by providing financial education to individuals as well as crisis mitigation, services that help families and individuals become financially stable in the Tri-county area. AmeriCorps Members will serve from

mid-August 2021 through July 31, 2022

. All members are required to complete a mandatory two-week orientation.
Team members learn from experts in the nonprofit field and gain practical experience in the community, focusing on economic development, community outreach, and more. This a great opportunity for recent graduates, retirees, or anyone who is interested in starting a career in the nonprofit field. If you have the desire to serve others and have skills or experience related to social services, human services, case management, or community organization, we are looking forward to your application.
ESSENTIAL FUNCTIONS
Customer In-Take Assessments and Crisis Mitigation
Conduct 30–45-minute intake sessions with clients to assess their basic needs and provide information on available services and procedures, to help the client utilize services that are available to them. Members are expected to also promote financial literacy sessions.
Tax Preparation Assistance
Provide high quality tax preparation assistance, using SC Thrive's Thrive Hub platform, to taxpayers who meet the qualification criteria. Answer questions, maintain taxpayer privacy and confidentially standards, and adhere to quality site requirements and volunteer standards of conduct at all times.
MEMBER BENEFITS – DURING A YEAR OF SERVICE
All members will have access to the Member Assistance Program (MAP), and federal student loan forbearance during the term. Upon successful completion of a service term, members are eligible for payment of accrued interest on eligible federal loans, and an education award ranging from $1,342-$4,441 which can be used toward continued education or student loan repayment. Members will also receive mileage reimbursement, skill building opportunities, and robust monthly professional development trainings which includes a three-year case management certification.
ADDITIONAL REQUIREMENTS AND EXPECTATIONS
Be at least 18 years old at start of service

Be a U.S. citizen, national, or legal permanent resident (Greencard holder)

Minimum GED or High School Diploma.

Two-year or four-year degree strongly preferred

Pass three criminal history checks

Meet weekly service hour goal.

Reduced Full Time:30-35,

Half Time:20-25,

Minimum Time:10-15

Work directly with clients

Some evenings and Saturday mornings expected during tax season (January-April)

Submit time sheets weekly

Track program measure data
Division: Community Impact
This is a non-management position
This is a contract position