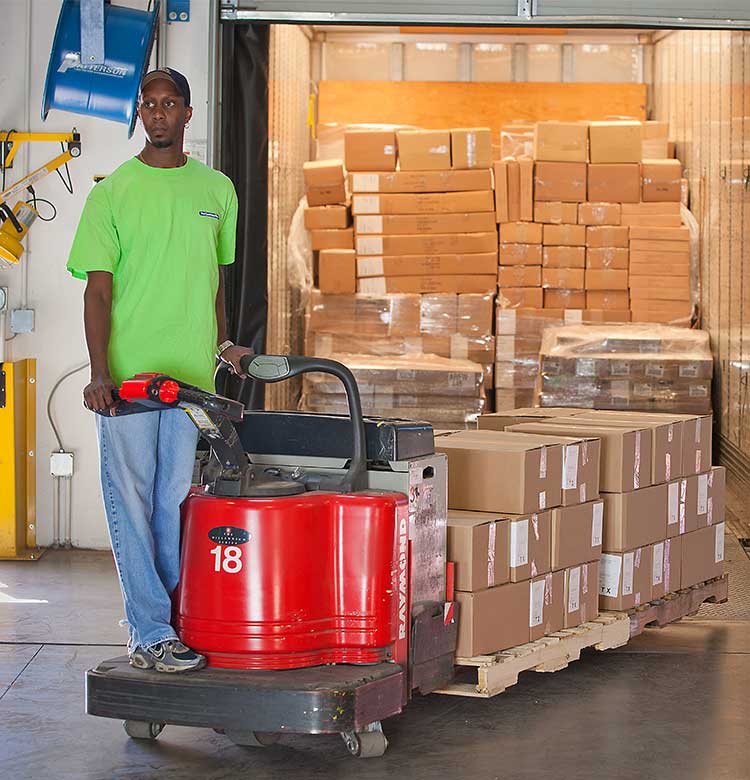 Full-time Position
Schedule: Monday – Friday: 9pm – until finished (finish anywhere from 4am or 6am)
Payrate: Pay Rate Commission $700 to $900 per week
Required Experience: Must be able to work in different climates (cooler/freezer/dry) and operate an Electric Rider Platform Pallet Jack
Bilingual is a MUST!
This individual will be responsible for offloads freight from dock trailers and brakes down cases according to customer requirements, wrap pallets, and clean up dock floors and under dock ramps.
Duties and Responsibilities:
Unload pallets from the trailer using a platform rider electric pallet jack.
Candidate must have 6 months experience operating the electric pallet jack.
Learn how to read a breakdown sheet.
Sort and palletize product on the cooler dock and dry dock...
Work fast and productive to earn even more...
Be part of a winning team and write your own paycheck!!!
Minimum Qualifications:
Minimum of 6 months of experience.

Ability to operate electric pallet jack and other required materials handling equipment

Must be a minimum of 18 years of age.

Legally authorized to work in the United States

Compliance with all company policies and procedures.

Ability to read, write and speak English proficiently.

Ability to understand and follow English instructions.

Successful completion of pre-employment drug testing and background check.
Physical Requirements:
You will be constantly standing, walking, riding, carrying, twisting, bending, balancing, seeing, hearing, and handling paperwork. You will always be lifting objects weighing from less than 20 lbs. to 60 lbs. and occasionally you will be pushing, sitting, touching, reaching, climbing, pulling, and gripping!
Start, Stick and Stay!
You can begin with Belmar earn great money and move through the ranks to a career in warehouse management, training or other specialties.
Your safety is our ultimate concern –
PPE Required: Steel toed shoes.
* * YOU MUST HAVE YOUR OWN RELIABLE TRANSPORTATION TO AND FROM WORK! * *
Belmar Integrated Logistics, Inc. is one of the best wholesale grocery facilitation supply companies in the U.S. and the industry leader in supply chain innovation. Founded in 1997 as a supplier to major food service distributors, Belmar now services customers of all sizes, supplying more than 10,000 restaurants, independent supermarkets, chain stores, schools, hospitals, military bases, and institutions with over 500,000 different products.
Why work for Belmar Integrated Logistics?
Great work!

Great Pay – Paid Weekly

Referral bonuses

Opportunity to advance

Benefits available

Training available
Working Safely is a Condition for Employment with Belmar Integrated Logistics, Inc. - An Affirmative Action Employer M/F/Disabled/Veteran
Grocery, supply-chain solution, employer, logistics, employment, working, training, benefits, opportunity, bonuses, referral, paid, paid weekly, work, great work, products, services, chain stores, supermarkets, restaurants, food service, distributors, supplier, transportation, steel toes shoes, money, safety, warehouse, career, background checks, English, procedures, experience, operating, operating electric pallet jack, material handling, case quantity, item picking, picking, labels, storage rack, pallets, wireless warehouse selection system, accuracy, production, safety standards, scheduled, on-time, orders, orders filled, responsible, productivity, delivery, health benefits, payrate, required experience, shift schedule, pallet runner, order selection, order selection, Forklift Operator, Stand-up reach forklift operator, Raymond electric pallet jack, warehouse jobs, warehouse employment, warehouse career, jobs near you, Toyota electric pallet jack, crown electric pallet jack, experience order selector, food service distribution center, facility, PPE Dallas, general labor, move freight, loading docks, delivery vehicles, sorting merchandise, work orders, stack cargo, cargo boards, maintaining supplies, excel, unloading, return materials authorizations, bilingual, verifying inventory, health benefits, sit-down forklift, computer numeric control, machine operator, machine operators, Denver, Denver Colorado, Recruiters, sourcing, recruiting, laborer, associate, Indeed, jobs, production pay, driver helper, driver's license, transportation, distribution, dock, recruiter, recruiting, staffing company, sourcing company, work, employment, 2021, jobs, paid weekly, referral bonus, opportunity, benefits, training, working conditions, Dallas, TEXAS, facility manager, facility supervisor, trained, accountable, VP of operations, facility supervisor, account supervisor, driver helper, Stand-up Reach Forklift, Coppell, TX, Denver, Colorado, Joliet, Illinois, Bolingbrook, customer service representative, electrical manufacturing, ATM,
This is a full time position