TRAVELING WAREHOUSE FOOD SERVICE ORDER SELECTORS!

($23.00-$26.00/HR + Food Stipend)
DEPLOYMENT POSITIONS AVAILABLE IMMEDIATELY !!!

Earn $23.00-$26.00/Hour

We do NOT report anything to your state's Unemployment Benefits Division and we do NOT take out taxes or any kind of payroll deductions (Bankruptcy, Child Support, etc...)

- This is a 1099 contract position and you get paid every penny you earn.
** MUST be an experienced food service order selector capable of meeting productivity numbers. If you do not have the required experience, please do not apply. LOTS OF OVERTIME!!

$Pay$ - Base rate of $23.00/HR with the expectation of 140-160 cases/hour. You will "Bank" a productivity bonus (PER HOUR WORKED) that will be paid out as a lump sum, when the assignment is completed.


Here is the deal - This position is a 100% traveling position. We have food service warehouses all over the US who are needing experienced trained order selectors for 4, 6 or 8 week assignments. You can sign up and then work only when you want to. This can be between jobs or work a few weeks a month, it is totally up to you. You will be paid $23/Hour and lots of overtime is available. You will be flown out to the client site and put up in a hotel and provided a daily Per Diem for food ($25/Day), all with NO expense to you.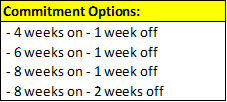 Here is the catch - You MUST be a good "Food Service" order selector. This means you were able to hit your performance % or Cases/Man-Hour productivity requirements at a food service DC like Sysco, US Foods, Reinhart, MBM, McLane, Ben E Keith, Shamrock, UNFI, Sygma, etc.. If you have order selector experience and it is not with a major food service distributor, then this job is not for you. All candidates MUST be able to preform from Day 1 and you have to have all of the experience and training you need.

If you contact us, we will have a coordinator call you for an initial phone screening to verify work experience, then a Zoom call will be setup to finalize the commitment and get you scheduled to start work!

This is open to all markets, since you will fly out of your home city for your commitment time. You will be given transportation, a hotel, a round trip flight, and money everyday for food. This allows you to work and live off of the company and save up your money.
---
Type: Full-Time
Location: 100% Traveling
---
Job Description:
Are you strong, ambitious and reliable? Do you love a challenge? If so, join Belmar as a Warehouse Selector and earn top dollar for your skill!
As a Belmar Integrated Logistics Team Member, you will work individually selecting full-case grocery products from warehouse pick slots using a pallet jack or other equipment. You will then fit the items on a pallet (are you good at Tetris?), plastic wrap the bundles, and in some cases, load them onto a trailer. All of our employees are expected to make safety their top priority.
---
Get Fit - Get Paid
Belmar Selectors are constantly on the move - walking miles of warehouse aisles over the course of a shift and lifting cases averaging 20-60 lbs. Fast, efficient, and safe on-your-feet, grabbing-and-going, lifting-and-stacking work is how we get it done. Job and gym all in one!
---
Who are we?
Belmar Integrated Logistics, Inc. is one of the best wholesale grocery facilitation supply companies in the U.S. and the industry leader in supply chain innovation. Founded in 1997 as a supplier to major food service distributors, Belmar now services customers of all sizes, supplying more than 10,000 restaurants, independent supermarkets, chain stores, schools, hospitals, military bases, and institutions with over 500,000 different products.
---
Start, Stick and Stay!
You can begin with Belmar as a selector, earn great money and move through the ranks to a career in warehouse management, training or other specialties.

Your safety is our ultimate concern - Steel Toed BOOTS are required for your protection.
---
Department Details:
You will be given a schedule when you arrive at your facility and you will say for your committed amount of weeks.
---

Responsibilities
Ensure accuracy of work and adherence to production and safety standards.
Remove case(s) of product from storage rack and place on pallet
Stick selection labels to the appropriate cases, if needed
Move pallet on an electric pallet jack until full or order is complete
Ensure item pick accuracy and safety of product to prevent damage
Inform supervisor of any differences in case quantity and/or product description
Wrap the pallet by circling load with roll of plastic wrap until secure
Other Duties as Assigned
---

Qualifications
Physical Requirements: You will be constantly standing, walking, riding, carrying, twisting, bending, balancing, seeing, hearing, and handling paperwork. You will always be lifting objects weighing from less than 20 lbs. to 60 lbs. and occasionally you will be pushing, sitting, touching, reaching, climbing, pulling, and gripping!
Legally authorized to work in the United States
Ability to operate electric pallet jack and other required materials handling equipment (MHE)
Compliance with all company policies and procedures.
Ability to read, write and speak English proficiently.
Ability to understand and follow English instructions.
Successful completion of pre-employment drug testing and background check.
---
REFFERAL BONUSES ARE AVAILABLE
---
Working Safely is a Condition for Employment with Belmar Integrated Logistics, Inc. - An Affirmative Action Employer M/F/Disabled/Veteran
This is a contract position