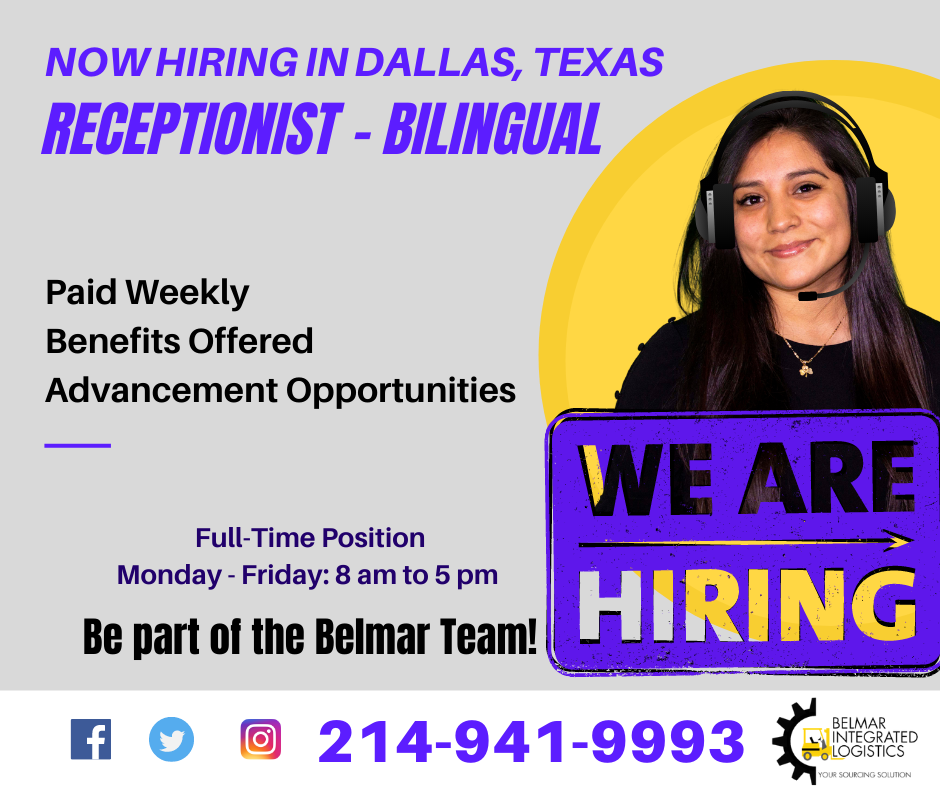 CORPORATE OFFICE RECEPTIONIST - BILINGUAL
DALLAS, TX - 1 POSITIONS AVAILABLE IMMEDIATELY !!!
Earn $14.00 per hour WITH BENEFITS OFFERED !!!!!
---
Type: Full-Time
Schedule: (Monday - Friday) 8 am to 5 pm
Location: Dallas, Texas
---
Department Details: Welcomes visitors by greeting them, in person or on the telephone; answering or referring inquiries. Directs visitors by maintaining employee and department directories; giving instructions. Maintains security by following procedures; monitoring logbook; issuing visitor badges. Front desk to a busy staffing office. Assist applicants start online applications on computers in lobby.
General Duties
• Excellent Data Entry Skills.
• Accurate with inputting correct information into systems.
• Friendly, accommodating, service-oriented professionals.
• High-Level of verbal and written communication skills • Detail oriented and organized.
• Productive and efficient with a high-level ability to multi-task.
• Tech savvy and computer literate.
• Managing Office Organization and Cleanliness.
• General Office Duties as assigned.
• Assisting Office/Business Manager.
Qualifications
Must be able to use office equipment.
Must be computer literate with proficiency with Microsoft Excel, Word, Power Point and Outlook
Must possess excellent interpersonal, communication, business writing, and verbal communication skills.
Strong data entry skills (numeric and alphanumeric)
Proven ability to work independently
Ability to perform detailed work at an efficient pace
General math skills
Ability to meet set deadlines
Strong organizational and prioritization skills
Bilingual – English & Spanish
Start, Stick and Stay!
You can begin with Belmar earn great money and move through the ranks to a career in warehouse management, training or other specialties.
* * YOU MUST HAVE YOUR OWN RELIABLE TRANSPORTATION TO AND FROM WORK! * *
Belmar Integrated Logistics, Inc. is one of the best wholesale grocery facilitation supply companies in the U.S. and the industry leader in supply chain innovation. Founded in 1997 as a supplier to major food service distributors, Belmar now services customers of all sizes, supplying more than 10,000 restaurants, independent supermarkets, chain stores, schools, hospitals, military bases, and institutions with over 500,000 different products.
Why work for Belmar Integrated Logistics?
Great work!
Great Pay – Paid Weekly
Referral bonuses
Opportunity to advance
Benefits available
Training available
Working Safely is a Condition for Employment with Belmar Integrated Logistics, Inc. - An Affirmative Action Employer M/F/Disabled/Veteran
This is a full time position