Manager on Duty
Are you a natural leader and ready for a manager-level position? Are you known as a creative problem solver with an innate ability to find unique solutions? Do you pride yourself on being an active listener who is excellent with time management and decisive in taking action? If so, we invite you to apply for a Manager on Duty position to play a powerful role at Burke Williams Day Spas.
We are looking for inspiring and motivating leaders who can set and achieve goals with their teams while transforming the days and lives of our guests. The Manager on Duty's role is multi-faceted to ensure that the day-to-day aspects of the spa run efficiently, safely, and smoothly while delivering a Burke Williams level of exceptional customer service. Effective Managers on Duty are able to balance operations, team leadership, and individual guest connections each and every day.
Key Responsibilities
Create an inspiring team environment with an open communication culture

Motivate team members to transform their guests' days, while holding them accountable to Burke Williams standards for performance, dress code, and more

Monitor team performance through training and feedback; identify training needs and provide coaching where needed

Actively listen to team members' and guests' feedback, resolving any issues or conflicts in a way that is mutually beneficial

Recognize and reward high performance for individuals as well as the team collectively

Encourage creativity, innovation, and team camaraderie

Oversee day-to-day operations, ensuring the facility is running in a safe and efficient manner including opening/closing, cash reconciliation, balancing schedules, and more

Ensure Burke Williams standards are met in every aspect of the spa

Inspire the team to go above and beyond to create memorable experiences for their guests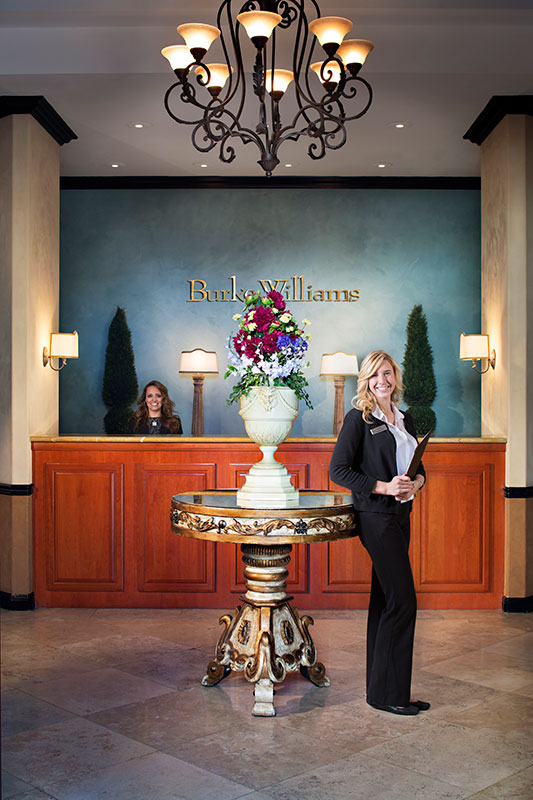 Key Skills and Attributes
Passion for connecting with guests and team members on an individual level

Desire to transform the days of both your team and our guests

Ability to make quick assessments and decisions in the moment that are relevant for each unique situation

Creative problem solving, discovering unique ways to resolve conflicts or issues

Desire to engage with team members and employees personally, not interested in a "desk job"
Our Culture
Burke Williams is a family-owned company and we consider each employee a member of our family as well. We pride ourselves on promoting from within - the average manager has been with us for an average of 9 years! Many of our senior leadership started in positions such as Front Desk, Estheticians, and Massage Therapists, so when we say we promote growth and development, we stand by it! Our mission is, "We exist to transform your day" and we are honored to bring that to life for our employees as well as our guests.
Compensation and Perks
Competitive compensation plus commission, bonuses, and incentives

World-class wellness program including complimentary massages and chiropractic care

Generous employee discount on H2V, our proprietary skincare line

Medical, dental, and vision benefits, plus a 401K retirement plan

Stress-free shift coverage and flexible scheduling plus vacation and sick days

Advancement through development coaching, training, and the opportunity for annual raises and career growth

$25/hr
Safety Standards
Your health and safety have always come first with our standard extensive cleaning protocols. Due to new guidelines surrounding COVID-19, we have gone above and beyond to add additional sanitizing and disinfecting measures. Please visit
www.BurkeWilliams.com/Wellness
for details on all the protocols we've implemented.
About Burke Williams
Burke Williams Day Spas exist to transform your day. A leader in the wellness industry since 1984, Burke Williams introduced the original day spa and continues to innovate, providing the latest in self-care products and services. A luxurious sanctuary awaits at eleven locations across California, inspiring you to disconnect from the world and reconnect with your inner self. Burke Williams provides a comforting place for your body + soul to rest and revitalize. Unique spa services include signature facials, massages, nail care, and more for the ultimate in
relaxation and transformative results!
At Burke Williams, we don't just accept difference—we celebrate it! Burke Williams is proud to be an equal opportunity workplace. We are committed to equal employment opportunities regardless of race, color, national or ethnic origin, ancestry, religion, sex, sexual orientation, age, gender identity and/or gender expression, citizenship, pregnancy, medical condition, marital status, physical and mental disability, military and Veteran status, and any other characteristic protected by law. Burke Williams provides reasonable accommodations to qualified individuals with disabilities in accordance with the Americans With Disabilities Act and applicable local laws. If you require accommodation, please call us us or send us an email at accessibility@burkewilliams.com.
This is a part / full time position