Company Overview:
Kids Klub provides quality care and education for children kindergarten through 12 years old. We are nationally accredited by the Council on Accreditation. Kids Klub is a nonprofit 501(c)3 program.

Learn, teach, repeat! Do you have a passion for learning and teaching? Enjoy leading a team and shaping a program's culture? Are you a multi-tasker looking for an active and engaging work environment? If so, we want you to join our team! This is a Full-Time opportunity!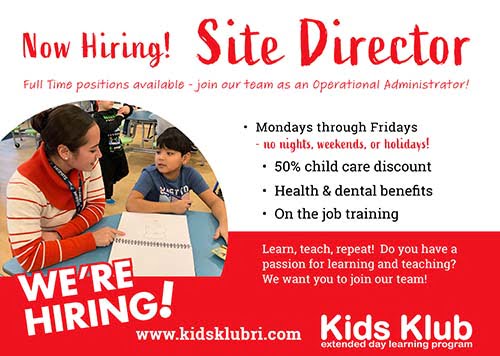 Position Details:
Each Kids Klub site has two directors (Operational Administrator & Curriculum Administrator) that work together as a team to lead and manage a team of teachers.

Kids Klub is currently seeking a Site Director/Operational Administrator to lead a Before and After School site at a Woonsocket Elementary School.


Hours:
Full-time (30-40 hours/week)

Monday - Friday

Before school (6:30/7am-8:45am)

After school (1:45/2:00-6:00)

Additional hours available for meetings, planning time, or trainings

Additionally, Kids Klub operates full day programs when school is not in session (not including holidays)

Note: We are willing to consider the right candidate for after school hours only



Benefits Include:
Paid Time Off

12 Paid Holidays

College Tuition Reimbursement

Simple IRA

Child Care Discounts

Medical (Healthcare Benefits), Dental, Vision

Flexible Spending Account

Training/Professional Development opportunities
When you join our team as an Operational Administrator you will:
Lead and supervise a team of teachers to create unique and engaging experiences

Cultivate positive relationships with families, teachers, school and district leaders, state licensing & national accreditation authorities, and community partners

Create a positive team culture and lead by example

Create a safe, healthy, structured and nurturing environment

Enroll children and collect tuition

Interact with children to ensure they are having fun, are safe and are learning

Oversee implementation of curriculum/assessment

Attend meetings as well as conduct meetings

And more!
Minimum Requirements:
Associate's degree (or equivalent 60 college credits)

3 years' experience working with children

CPR/First Aid certification preferred (annual certification offered at no cost to employees)

Strong communication skills

Positive team player

Computer proficient
Physical Requirements:
Ability to be

engaged in physical exercise with children such as walking, running, crawling, bending, twisting, etc.

Must have visual and

hearing

acuity

Must be able to lift

up

to 40 pounds
Other Qualifications:
Minimum 21

years of age

Must be able to read, write, speak and understand English fluently

Must pass national criminal background/fingerprints check

Must pass Department of Children, Youth and Families (DCYF) Clearance Request (CPS)
This is a management position
This is a full time position

Visit
Careers
at Child Care Consultants & Facilities Management