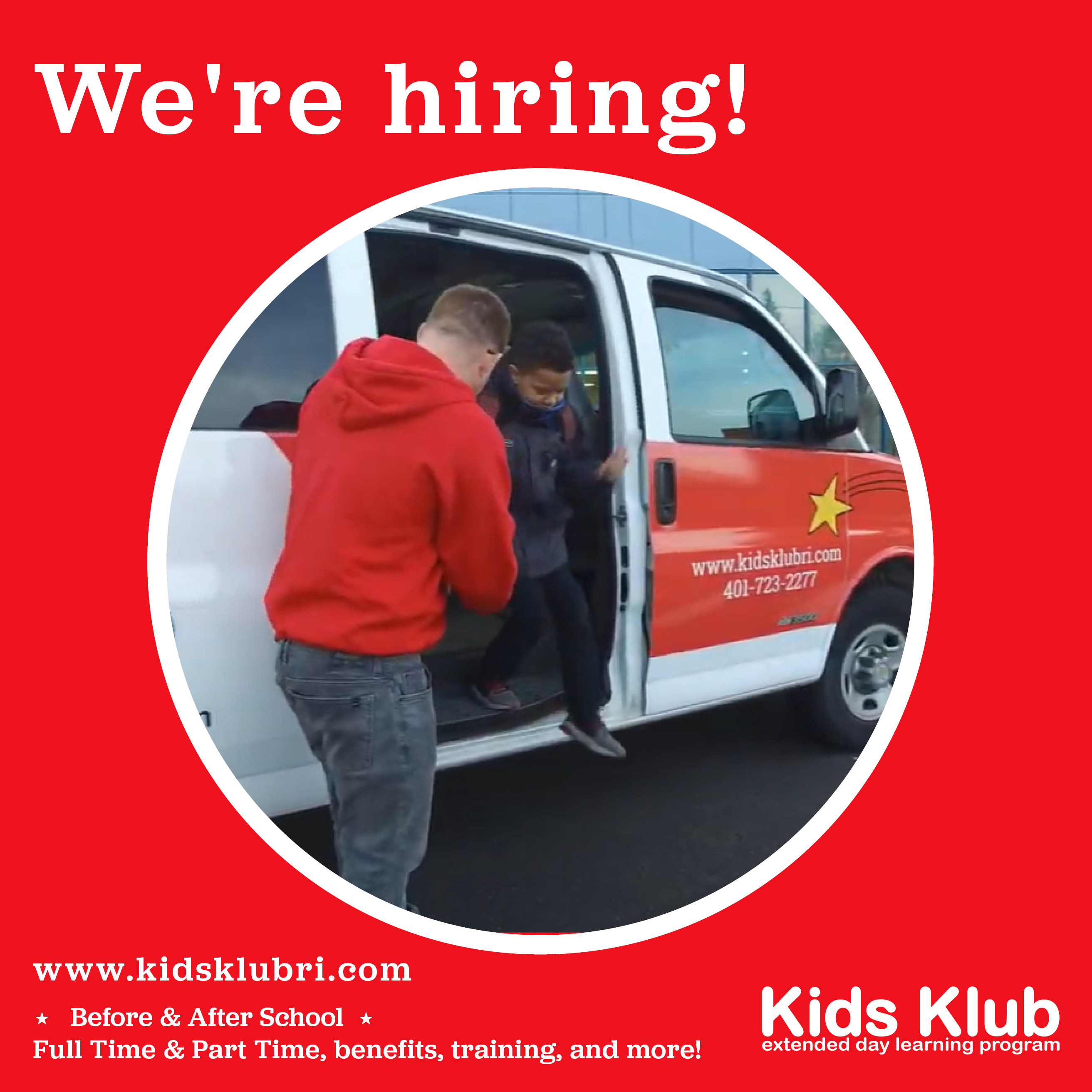 We have a great opportunity for the right person! Great hours 8:15am - 9:15am then back from 2:30pm - 4:30pm. This position is providing transportation for elementary school children to and from public school to our before and after school program. The vehicle is a 12-passenger van/mini-bus. Chauffeur's license needed and we will pay for you to get it!
Overview:
Kids Klub provides quality care and education for children in kindergarten through 12 years old. Kids Klub operates before and after school programs and full-time programs during school vacations, summer break and when school is not in session.
With over 30 years of experience, Kids Klub is recognized for our leadership in delivering extended day learning programs. Our programs provide busy working parents with a safe, convenient space where their child's potential is fostered through engaging learning experiences. Kids Klub is committed to working in collaboration with the school department, parents and students on curriculum planning and enrichment activities.
COVID-19 considerations:
Read more about what we are doing to respond to COVID-19 to keep children and teachers safe:
Reopening After COVID-19: Updated Health & Safety Procedures - Kids Klub (kidsklubri.com)
Drive company van/mini-bus to and from schools and/or field trips

Monitors the behavior of all children including proper sitting, entering and exiting of the van

Uses proper protocol as necessary when an emergency situation arises notifying the proper authorities including the Administrators and/or Home Office

Operates van/mini-bus safely at all times in accordance with posted speed limits, parking restrictions, passing zones and all other traffic and driving laws

Assumes responsibility for ratio and head counts, school locations and children

Checks the condition of vehicle tires, brakes, windshield wipers, lights, oil, fuel, water and safety equipment to ensure that everything is in working order

Assumes responsibility for ensuring that all children board and exit the van safely

Attend meetings and trainings

Assist with the accreditation process as well as other quality initiatives

Other duties may be assigned as necessary
Education Requirements:
Minimum high school diploma or equivalent
Experience Requirements:
Minimum one (1) year experience comparable sized vehicle preferred.
Other Requirements:
Minimum 21 years of age

Must be able to read, write, speak and understand English fluently

Must possess or be willing to obtain a valid chauffer's license and meet insurance required parameter for safe driving .

Must pass national criminal background/fingerprints check

Must pass Department of Children, Youth and Families (DCYF) Clearance Request (CPS)
This is a part time position

Visit
Careers
at Child Care Consultants & Facilities Management