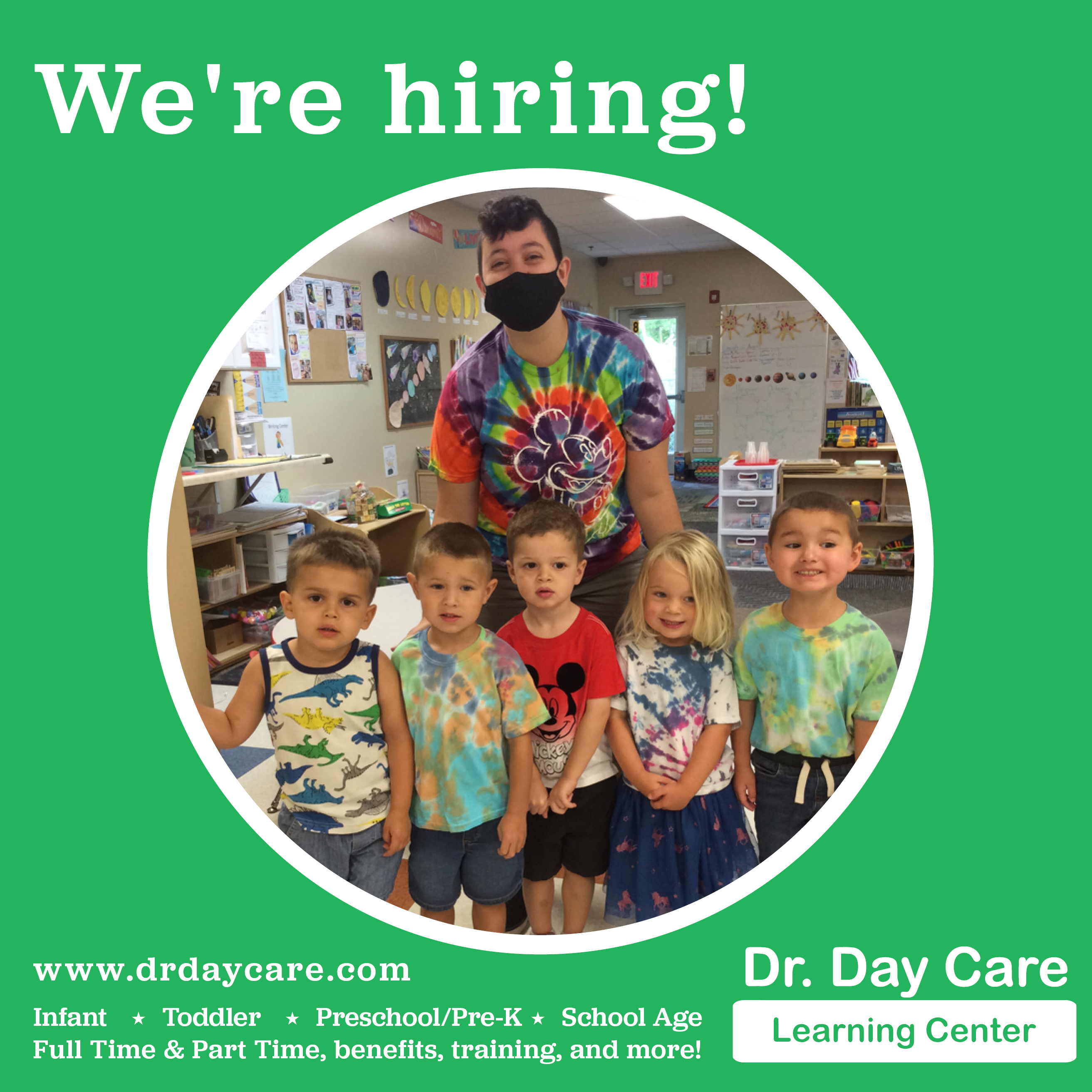 Overview:
Dr. Day Care Learning Center provides care for children ages 6 weeks through 12 years old in our Infant, Toddler, Preschool and School Age programs. We offer quality care and education 52 weeks of the year - we are the Home of the Educational Guarantee!
Dr. Day Care provides family, youth and child services in a safe, structured and nurturing environment through a team of dedicated professionals. Our teachers are supported by our home office in order to provide the best quality care and education for all of our students. Learn and grow with Dr. Day Care and be part of a company that has earned a positive reputation amongst parents and the community.
We offer health and dental benefits, paid time off, paid holidays, and more! Click here to learn about what we provide for our employees.
Benefits and Perks interactive-booklet.pdf
Benefit Package Includes
Retirement

Health and Dental

Paid Time Off

Reduced Child Care Tuition

Life Insurance

Paid Holidays

Great Team Environment
Rate of pay determined by applicable education and experience.
Responsibilities:
The Lead Teacher is responsible for all aspects of a particular age group/classroom, including, but not limited to,:
Creating a safe and nurturing environment

Responsible for overseeing, developing, implementing and coordinating developmentally appropriate curriculum and assessment of children

Complete administrative paperwork

Attending meetings

Communicating positively with parents on a daily basis

Support the Therapeutic Child Care Services (TCCS) program

Assist with the implementation of Positive Behavior Intervention Strategies (PBIS), accreditation and other quality initiatives

Supervise classroom staff

Assist with ordering and preparing food and supplies

Oversee the cleanliness, organization and maintenance of the classroom

Other duties may be assigned as necessary
Education Requirements:
Minimum high school diploma or equivalent with

Child Development Associate (CDA) credential or 12 college credits in Early Childhood Education or related field required

Associate's degree or higher in Early Childhood Education preferred

Rhode Island Early Learning and Development Standards (RIELDS) certification preferred (Preschool positions)

Must participate in early childhood staff development program

CPR/First Aid certification preferred
Experience Requirements:
Minimum one (1) year experience working with children in age group/classroom assigned and in a child care/early learning center

Knowledge of Teaching Strategies preferred

Strong communication skills

Positive team player

Management/leadership skills

Ability to attend meetings/trainings after normal business hours
Physical Requirements:
Ability to be engaged in physical exercise with children such as walking, running, crawling, bending, twisting, etc.

Must have visual and hearing acuity

Must be able to lift up to 40 pounds
Other Qualifications:
Minimum 21 years of age

Must be able to read, write, speak and understand English fluently

Must pass national criminal background/fingerprints check

Must pass Department of Children, Youth and Families (DCYF) Clearance Request (CPS)

Available to work between the hours of 6:30 a.m. – 6:00 p.m., Monday – Friday, according to the needs of the business
This is a full time position

Visit
Careers
at Child Care Consultants & Facilities Management