We are seeking a dedicated and enthusiastic individual to lead Curriculum in our Before & After school program at
Pothier Elementary School in Woonsocket, RI.
This is a unique opportunity enhance the school day for the children in your care.
We also operate programs full-time during school vacations and summer breaks.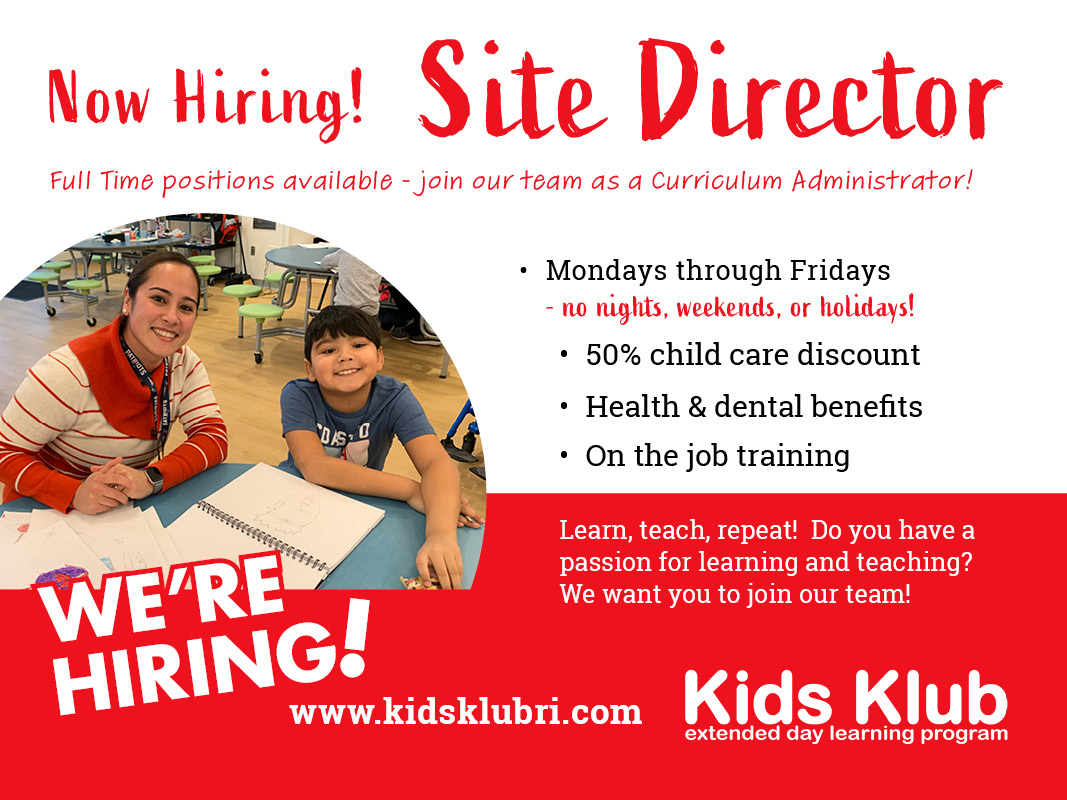 With over 30 years of experience, Kids Klub is recognized for our leadership in delivering extended day learning programs. Our programs provide busy working parents with a safe, convenient space where their child's potential is fostered through engaging learning experiences. Kids Klub is committed to working in collaboration with the school department, parents and students on curriculum planning and enrichment activities.
The Operational Administrator is responsible for all aspects of the school age site including, but not limited to,:
Create a safe, healthy, structured and nurturing environment

Oversee the supervision and program planning for the children

Complete administrative paperwork

Positively communicate with parents

Coach, supervise and positively communicate with staff

Assist with planning and implementing curriculum

Attend monthly Administrator meetings

Conduct monthly staff meetings

Oversee accreditation process, as well as other quality initiatives

Perform all required duties in the absence of the Administrator

Other duties may be assigned as necessary
Benefit Package Includes: 401K with company match, Health and Dental, Paid Time Office, 13 paid Holidays, College Tuition Reimbursement, Reduced Child Care for your own child, and voluntary benefits.
Read more about our company perks and benefits: www.kidsklubri.com/employee-perks-benefits
Requirements:
Associate's degree in Education, Child Development, Human Services, Recreation or related field

18/60 college credits in Education, Child Development, Human Services, Recreation or related field

Bachelor's degree in Education, Child Development, Human Services, Recreation or related field preferred

Minimum two (2) years of experience (with Associate's degree or 18/60 credits) working with school age children in a group setting

Minimum one (1) year of experience (with Bachelor's degree) working with school age children in a group setting

Strong communication skills

Enthusiastic leader

Positive team player

Able to attend meetings/trainings after normal business hours

Ability to be engaged in physical exercise with children such as walking, running, crawling, bending, twisting, etc.

Must have visual and hearing acuity

Must be able to lift up to 40 pounds
Minimum 21 years of age

Must be able to read, write, speak and understand English fluently

Must pass national criminal background/fingerprints check

Must pass Department of Children, Youth and Families (DCYF) Clearance Request (CPS)

Available to work between the hours of 7:00 a.m. – 9:00 a.m. and 2:00 p.m. and 6:00 p.m., Monday – Friday, according to the needs of the business with flexibility; full days are required during school vacations periods
This is a management position
This is a full time position