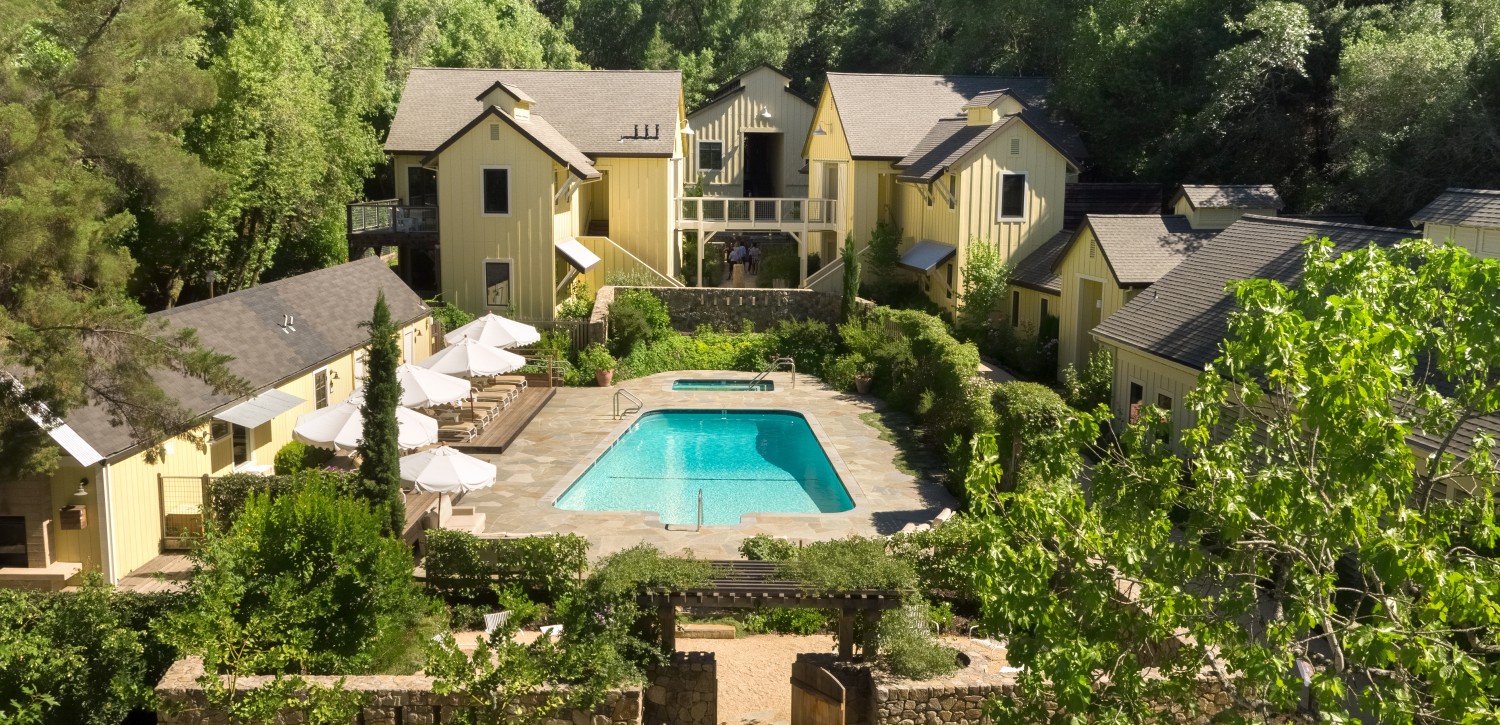 Voted #1 Best Resort Hotel in California
by Travel & Leisure Magazine, Farmhouse Inn is looking for a full-time Maintenance Engineer Supervisor to become a part of the team for this incomparable luxury boutique hotel of 25 rooms and suites with its Michelin-starred restaurant and farm-to-table spa. The Maintenance Engineer Supervisor plays an integral role at Farmhouse Inn. The Maintenance Engineer Supervisor's role is to keep the property mechanically and physically running at its very best by organizing and implementing a proactive preventive maintenance program and by responding immediately to any maintenance issues, especially those which directly affect the guest experience. You will work with an incredible team of passionate owners, experienced managers, and dedicated coworkers. This is a wonderful opportunity to grow in your career and become a part of the ongoing, rich history at a top luxury inn.
Farmhouse Inn offers extensive and competitive benefits (upon meeting eligibility requirements):
Medical /Dental/Vision/Chiropractic Benefit Plans

401K Plan with employer match

Opportunity for gratuities

Employee discounts at the Inn, Restaurant, & Spa

Daily family meal provided

Essential Duties:
The job duties listed below are an overview of the essential duties and measures required to be successful in the position. Please note that the listed examples do not include all tasks, which may be expected within this job position.
Maintains knowledge of all mechanical working systems on the property

Develops and implements a comprehensive, preventive maintenance program for the property in order to anticipate potential challenges and keep the property in best possible working order

Performs repairs to materials and equipment, determining if outside contractors/professionals are needed to complete repairs, in a timely and cost effective manner

Trains and supervises the Maintenance Assistant

Organizes, maintains, and keeps storage areas in good order

Maintains in excellent physical and mechanical order areas including but not limited to: restaurant, kitchen, spa, guest rooms, receptions, admin. offices, parking areas, pool area, machinery, equipment, and grounds

Promptly reports to the Hotel Manager and corrects any maintenance deficiencies that may have an unsafe or negative effect on guests, visitors, or employees

Coordinates access to guest rooms and timeliness of guest room maintenance with the housekeeping and front desk teams

Maintains accurate records on equipment warranties and maintenance history; maintains files for technical sheets for all equipment on property

Responds to work orders originating from/reports the status of maintenance assignments to the front desk, housekeeping, and management

Repairs and cleans furniture, fixtures, and equipment in guest rooms, public areas, storage, offices, outdoor area etc.

Tactfully and professionally handles special guest situations and resolves maintenance related problems in a timely fashion

Maintains an organized inventory of frequently used replacement items (light bulbs, keys, electrical parts, plumbing parts etc.)

Assists other departments with moving furniture, unloading and storing supplies etc.

Exercises sound judgement in prioritizing tasks and communication
General Requirements:

Education:
High School Degree or equivalent
Experience:
Supervisory experience in commercial property operations and/or maintenance

Some technical training or equivalent work experience in the following categories: equipment maintenance, HVAC, plumbing, electrical, refrigeration, carpentry or property management

Past experience in a hotel environment preferred
Qualifications:
Current valid California driver license at all times

Access to a personal vehicle during all working hours for running work related errands (mileage will be reimbursed according to IRS standards)

Strong customer relations and hospitality skills

Must be able to speak, read, write and understand the primary language(s) used in the workplace

Must be able to speak and understand the primary language used by the guests who visit the hotel

Excellent attention to detail

Must be safety-minded and have the safety and best interest of Farmhouse Inn guests in mind at all times

Knowledgeable on OSHA regulations, health department rules, fire department regulations, hotel law and the hotel's safety, security and health policies as they apply to hotel operations and all aspects of accommodating guests

Ability to work inter-departmentally, with Restaurant, Kitchen, Spa, Front Desk and other Farmhouse teams

Maintain regular attendance, is consistently on time and complies with Farmhouse Inn standards

Scheduling flexibility to meet operational needs, weekend and holiday availability is required

Flexibility/Availability to be reached via personal cell phone/to physically come in to property (within reason) for maintenance emergencies should one arise
Physical Requirements:
Pushing & Pulling: average weight 50lbs frequently

Lifting & Carrying: average weight 50lbs frequently

Standing & Walking: constantly

Kneeling & Bending: frequently

Reaching: constantly

Climbing: must be able to safely use ladders and footstools

Ability to safely and efficiently use common hand tools and power equipment
This is a full time position