What is the SGM Way? It's the art of delivering an "Extraordinary Experience" to our clients and team members. At Schill Grounds Management, we believe that Extraordinary Experiences come from Extraordinary People and that the foundation for Extraordinary People is an Extraordinary Culture.
We invite you to experience our Extraordinary Culture and discover what sets us apart from other companies. Our business continues to expand and we are looking for part-time Snow Removers to help us serve our commercial clients.
This position pays between $15 - $20 per hour, depending upon length of shift. Checks are cut on a bi-weekly basis.
If you work a 0-4 hour shift, you will earn $15 per hour. If your shift extends beyond that, you will earn $17.50 per hour for the next 4 to 8 hours you work on that shift. If there is still snow on the ground and you continue to work, you will earn $20 per hour for anything above and beyond 8 hours in a single shift.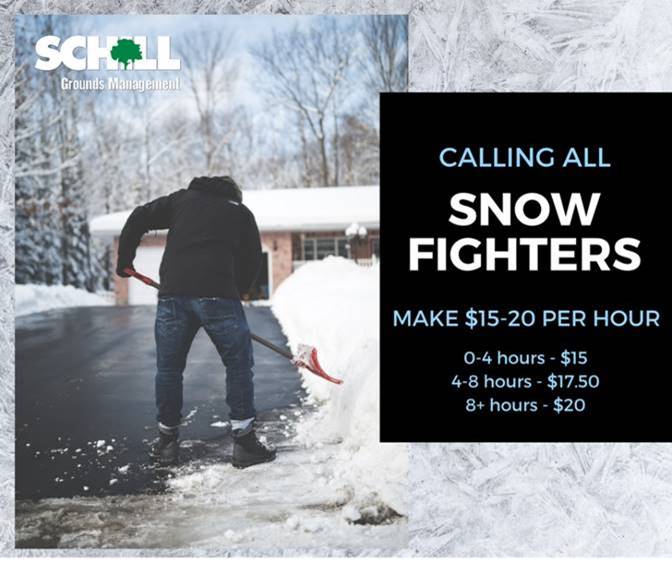 We will assign you the location closest to your home.

As part of our Snow Removal Crew, you may do any of the following:
Manually shovel snow

Spread salt

Remove snow from storefronts using awning rakes

Operate small snow blowers

Operate walk behind snow sweepers



What will it take to be successful in this position?
Attention to detail and the ability to work in a team environment

An appreciation for working outdoors – you will be outside in Northeast Ohio winter conditions!

A working phone number and flexible availability – we will call you when we are gearing up for a weather event

Reliable transportation to your assigned work site



And, if you enjoy working for us during the snow removal season, we do have crew member opportunities available during the landscaping season!
Work Authorization
Employment is contingent upon a successful background check and drug screen. Schill Grounds Management, Inc. will only employ those who are legally authorized to work in the United States.
Equal Opportunity Employer
Schill Grounds Management, Inc. is an Equal Opportunity employer. All qualified applicants will receive consideration for employment without regard to sex, race, color, religion, national origin, age, marital status, political affiliation, sexual orientation, gender identity, genetic information, disability or protected veteran status. We are committed to providing a workplace free of any discrimination or harassment.
Department: Operations
This is a seasonal position

Visit
Careers
at Schill Grounds Management