Senior Staff Accountant - Columbia, MD

Who We Are
Straughan Environmental, Inc. is a woman-owned, leading engineering and environmental firm advancing sustainable and resilient communities. With a 25-year history of growth through performance on large, complex, and high-profile projects, we provide solutions to diverse clients in the federal government, local government, transportation, water/wastewater and energy markets. Our mission is advancing sustainable and resilient communities, and we work every day to achieve our mission in surprising ways. Whether our team is managing one of our multi-million dollar environmental compliance programs for Federal agencies like NASA, engineering an ecological restoration project, working on environmental policy and planning, or identifying wetland plants in the field, each member of our team individually and collectively contributes uniquely to advancing sustainable and resilient communities.

Summary
Straughan Environmental, Inc. is seeking to add a qualified Senior Staff Accountant to our growing team. An
exceptional candidate will demonstrate familiarity with full-cycle accounting and monthly closing procedures,
preparation of financial statements, A/R & A/P management, preparation of client invoices, payroll functions, and
audit support. The position will play an essential role in supporting the Accounting Manager in preparing financial
reports for management as well as ad-hoc reports as needed. The candidate may be required to work additional
hours as necessary to meet both accounting and regulatory deadlines.

Responsibilities

Maintain accounts payable in Bill.com and Unanet
 Review account coding for accuracy
 Enter vouchers in Unanet
 Maintain accurate A/P Aging report
 Reconciliation of Unanet and Bill.com
 Adhere to bi-weekly A/P check run schedule

Maintain accounts receivable
 Maintain accurate A/R Aging report
 Prepare monthly collections report
 Review monthly collections statements
 Maintain collections log

Assist with preparation and issuance of client invoices
 Assist with timesheet corrections
 Assist with cost structure corrections
 Assist with the review of direct and indirect labor
 Review expense reports for accurate expense type and project codes
 Issue monthly fixed price report
 Prepare fixed price invoicing
 Review billing and revenue post for accuracy and completion

Prepare various month-end project accounting reports
 Evaluation of project burn-rates
 Assist with preparation of monthly project management report list
 Assist with the maintenance of various job status reports
 Ability to discuss project financials with Project Managers
 Ability to answer questions and respond to various requests from Project Managers

Assist Accounting Manager with month-end closing procedures
 Complete account analysis schedules
 Review & evaluate T/B for accuracy
 Prepare monthly accrual schedule and J/E
 Review trend income statement and evaluate for accuracy
 Perform account reconciliations
 Review of monthly contract revenue & direct labor multipliers
 Review overhead billing rate to run rate reconciliation

Bi-Weekly Payroll
 Assist with maintenance of Fidelity payroll system
 Review hourly rates for accuracy
 Review pay code summary, OT, and labor variance adjustments
 Enter PTO accrual adjustments
 Review EE benefits and deductions for accuracy
 Prepare payroll J/Es
 Reconcile payroll accrual and expense accounts and prepare payroll accrual J/E
 Ensure PTO accrual rates and liability account are accurate

Assist with external audits as needed
 Annual financial and MDOT/FAR overhead rate audits
 Annual state overhead rate submission and related audits
 Annual ICS report preparation

Other Duties
 Prepare additional financial reports as requested by management
 Prepare reports for external agencies as requested
 Complete additional projects as assigned

Skills and Qualifications
 Bachelor's degree in accounting or finance
 Minimum 5-8 years of relevant professional accounting experience
 Strong understanding of GAAP and FAR
 Familiarity with State/Federal contracting
 Experience with project-based accounting
 Familiarity with cost-plus, time and materials, and fixed-price contracts
 Attention to detail and accuracy is essential to this role
 Advanced Excel skills
 Able to handle confidential material
 Ability to prioritize and organize efficiently
 Ability to meet deadlines
 High-level analytical ability
 Self-starter with ability to work independently
 Effective written and verbal communication
 Ability to communicate across various functional levels of the organization

Preferred Qualifications
 CPA or CPA candidate highly preferred
 MBA or MBA candidate a plus
 Experience with Unanet ERP
 Experience with Bill.com
 Experience with MS 365 including Teams and SharePoint

Due to the nature of this position, all candidates must agree to a comprehensive background check.
Candidates may be required to complete an assessment of various accounting and Excel skills.

Our Culture | Our People
Straughan has been selected as one of The Baltimore Sun's Top Workplaces for the past four consecutive years, and we are committed to providing an engaging workplace where employees are supported in their career goals and professional development, we provide educational assistance, professional development and support in professional credentials. At Straughan, we understand the needs of our workforce. We are committed to continuously evolving and creating practices and policies that meaningfully address the needs and desires of our team. We invest fully in you as a whole person. Here are some of the ways we strive to support all of our team:
We care about your overall well-being and health— Straughan offers group benefits to include medical, dental and vision coverage.
We invest in your continuous learning and development and understand that this is a cornerstone to our success.
We understand the importance of recharging and replenishing yourself, so we provide new employees with 15 days of Paid Time Off.
We care about your financial future and will provide up to three percent at 100% employer contribution and an additional 50% for another 2% of your match salary to our retirement plan.
Lastly, we want to protect you and your future, we provide at no cost to you, short-term and long-term disability along with life insurance.
We also know that our world is changing and the way we work has too– we continue to strive to provide flexibility and work/life integration options that support you and those you care about.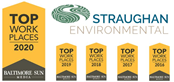 EOE/AA Minorities/Females/Protected Veterans/Disabled – We are an equal opportunity employer –but we are more than that – We are open-minded, and care only about your capability, your drive, and your desire and determination to contribute your gifts and talents fully.
Department: Finance
This is a full time position

Visit
Careers
at Straughan Environmental, Inc.