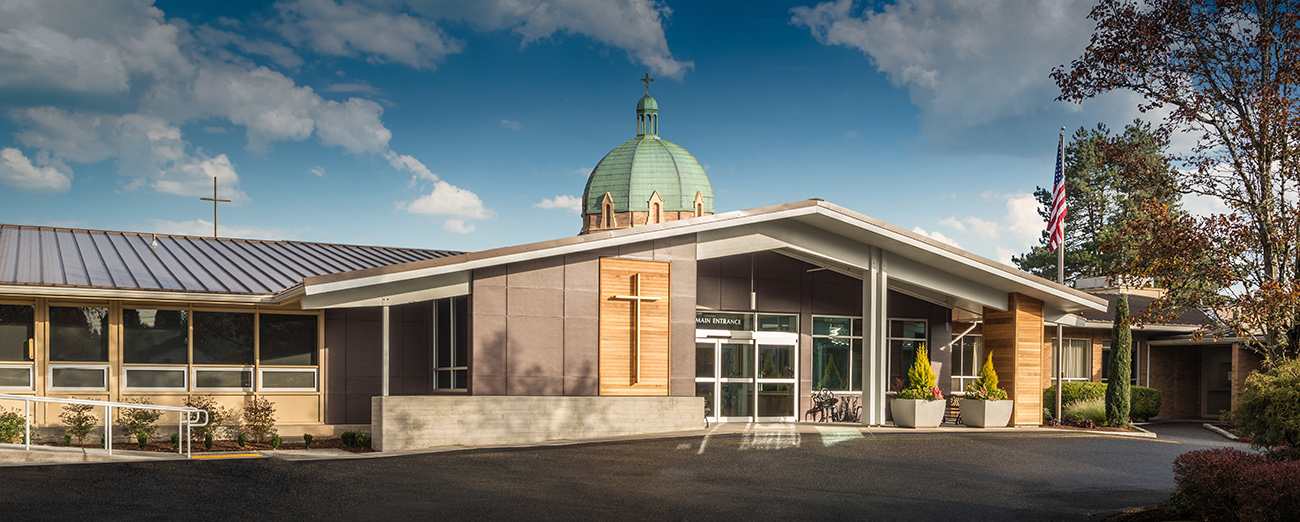 Maryville is located in Beaverton on the tree-lined, 43-acre campus of the Sisters of St. Mary of Oregon. It is highly rated, well-staffed, and freshly updated to provide an environment of peace and healing for those who need round-the-clock care.
Maryville offers a calm, respectful, and patient-centered atmosphere founded and focused on the Sisters' life-affirming values. If those are values you share, we hope you will consider becoming a member of Maryville's well-respected team of dedicated healthcare professionals.
A Maryville Restorative Aide (RA) must possess and demonstrate comprehensive knowledge of safe, restorative nursing care practices. The RA must also be able to verbalize and demonstrate appropriate knowledge:
To assist residents in maintaining and/or regaining optimum levels of mobility, ambulation, strength, and range of motion and the ability to perform activities of daily living.
To provide direct medical and non-medical care to residents in a timely manner.
To protect both the dignity and quality of life of Maryville residents.
To assist other RAs, CNAs, and nurses in caring for residents, as needed.
To ensure proper safety and sanitation guidelines are followed at all times.
Daily responsibilities of our RAs include:
Understands and agrees with Maryville's philosophy and goal to foster the physical, psychological, emotional, spiritual, and social well-being of those in our care.

Provides support and assistance to other team members.

Performs Active Range of Motion (AROM) and Passive Range of Motion (PROM) in a safe manner to residents as assigned by the Resident Care Manager (RCM) and the resident's overall plan of care.

Ambulates residents as assigned by the RCM and the resident's overall plan of care while utilizing appropriate equipment or devices in a safe manner.

Assists residents to apply and remove splints or prostheses as assigned by the RCM and the resident's overall plan of care.

Encourages the residents to perform tasks for him/herself as appropriate and as assigned by the RCM and the resident's overall plan of care.

Provides good body alignment, positioning device and contracture padding as appropriate and as assigned by the
RCM and the resident's overall plan of care.
Provides assistance in feeding techniques and use of adaptive equipment as assigned by the RCM and the resident's overall plan of care.

Reports to the RCM any adverse conditions experienced by the resident during the provision of restorative nursing care including, but not limited to, pain.

Monitors and assists with the performance of Activities of Daily Living (ADLs) to promote resident involvement to the highest extent possible without resident decline unless the decline is documented as unavoidable.

Evaluates and documents the resident's progress as indicated by Maryville's policies and procedures. Communicates results to the RCM and seeks input and supervision to confirm findings.

Practices good body mechanics while delivering restorative nursing care to prevent injuries to self or to others.
Observes all safety precautions as required in Maryville's policies and procedures.
Learns and maintains a good understanding of medical terminology pertinent to Restorative Nursing.

Cooperates with licensed rehabilitative therapists when providing restorative nursing care to residents when appropriate.

Attend monthly meeting with RCMs and Therapy Director to discuss progress/responses to current plan of care and ongoing goals pertaining to Restorative Nursing.

Perform all duties and functions as listed in the Certified Nursing Assistant Job Description.

Perform other duties and assignments as assigned by the Director of Nursing.
Maryville offers a comprehensive benefits package including medical, dental, vision, life insurance, retirement savings, Employee Assistance Program (EAP) featuring counseling services, financial coaching, legal services, and home ownership program; and Paid-Time Off.
Qualifications:
High School diploma or GED helpful

One year of work experience in a long-term care setting preferred

Able to follow the principles of safe body mechanics in all aspects of patient care; able to communicate effectively and empathetically with patients, their family members and staff at every level of the organization; able to read and write in English; able to use math skills; able to enter resident information into a computerized database; attention to detail; able to pass an Oregon DHS background check; and willing and able to take and follow instructions.

Current OSBN Certification or proof of graduation within the past two years from a certified NA training program and proof of being scheduled for the OSBN certification exam. The exam must be completed and passed within four months of hire.
Physical Requirements:
Able to regularly lift 45 lbs. transferring, rotating and assisting residents

Able to walk long distances between units

Able to stand and walk for several hours at a time

Able to bend, twist, squat, and kneel
To Apply:
Complete this online employment application, and submit your cover letter and resume along with three references willing to talk about your past employment. Once reference must be a previous supervisor.
This is a non-management position
This is a full time position

Visit
Careers
at Sisters of St. Mary of Oregon Ministries Corporation